Size
L(165/88A)
XL(170/92A)
XXL(175/96A)
XXXL(180/100A)
US
6-8
10-12
14-16
18-20
UK
AU
EU
Chest/Bust /cm

Tile

88
92
96
100

Recommend

84-90
90-96
94-100
98-104
Total Length /cm
56
58
60
63
Sleeve /cm
14
14.5
15
16.5
Shoulder Width /cm
35
36
37
38
Waist /cm
80
82
84
86
Hem Girth /cm
88
92
96
100

NOTE: 1. Please strictly follow the size chart to select the size. Do not select directly according to your habits.

2. The size may have 1-3cm differs due to manual measurement. Please note when you measure.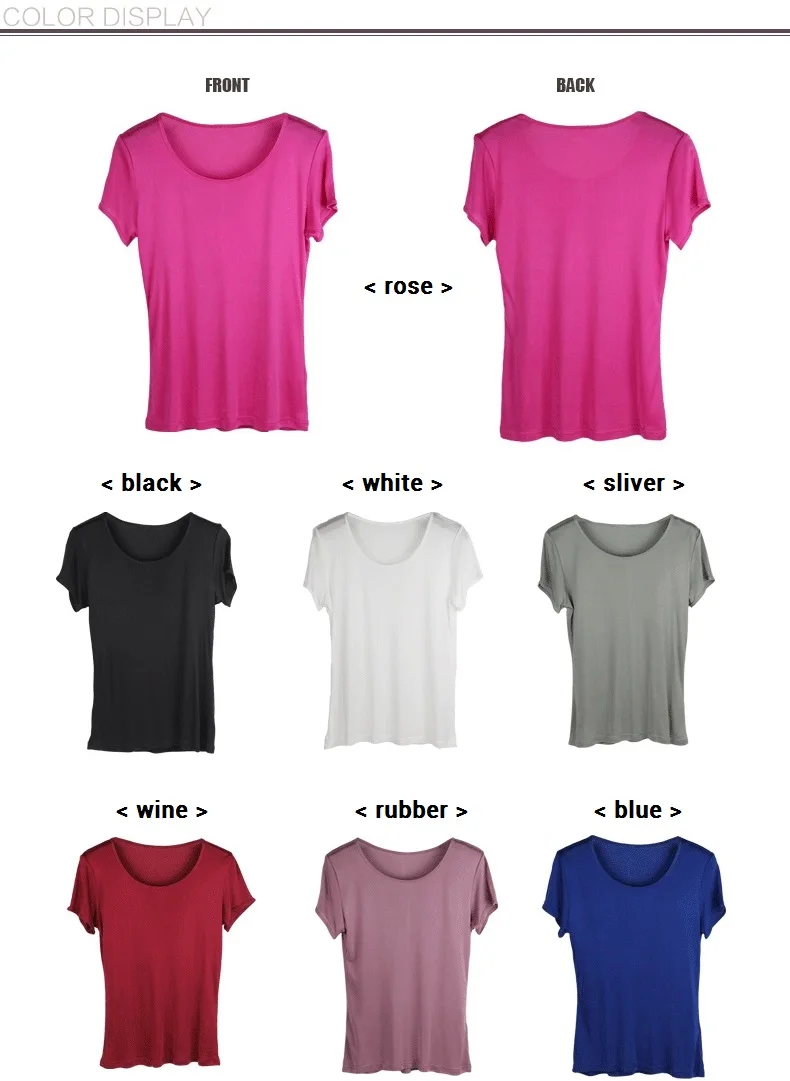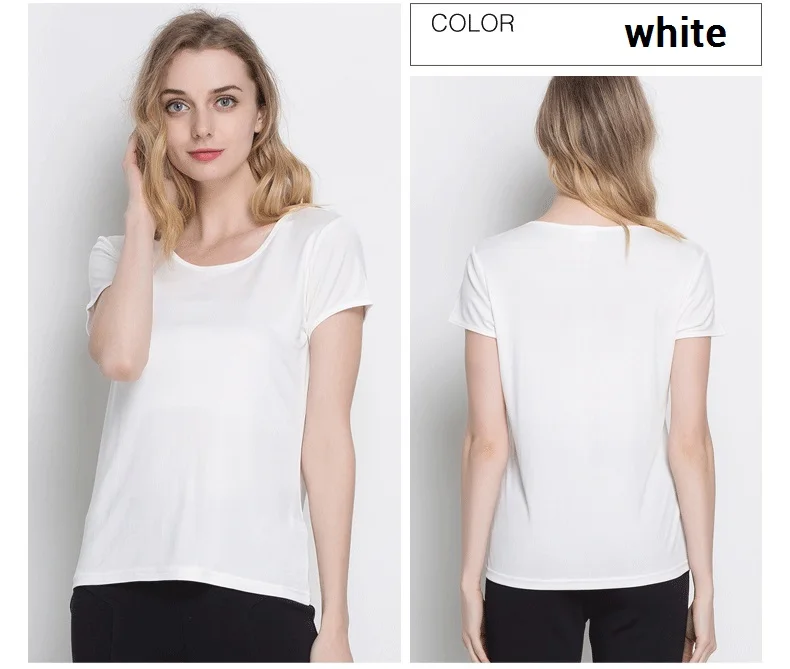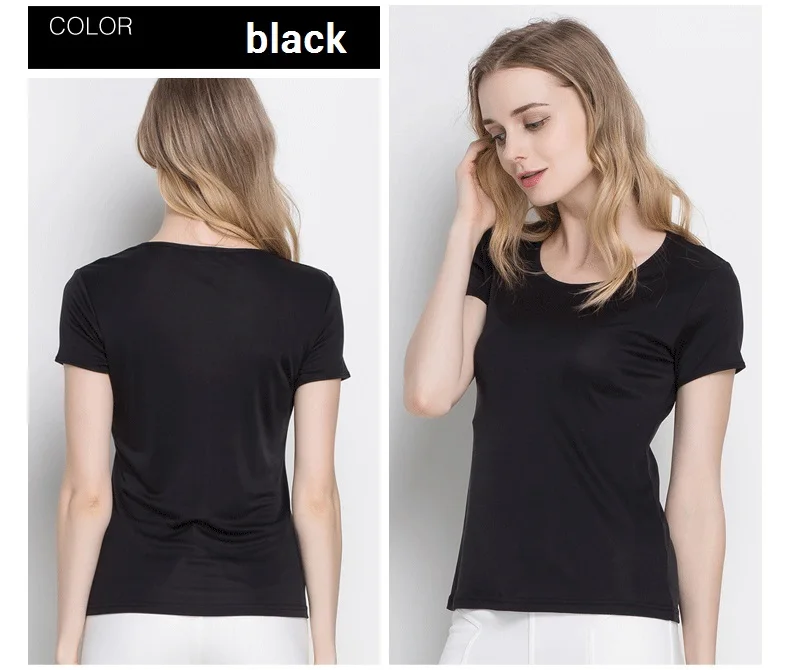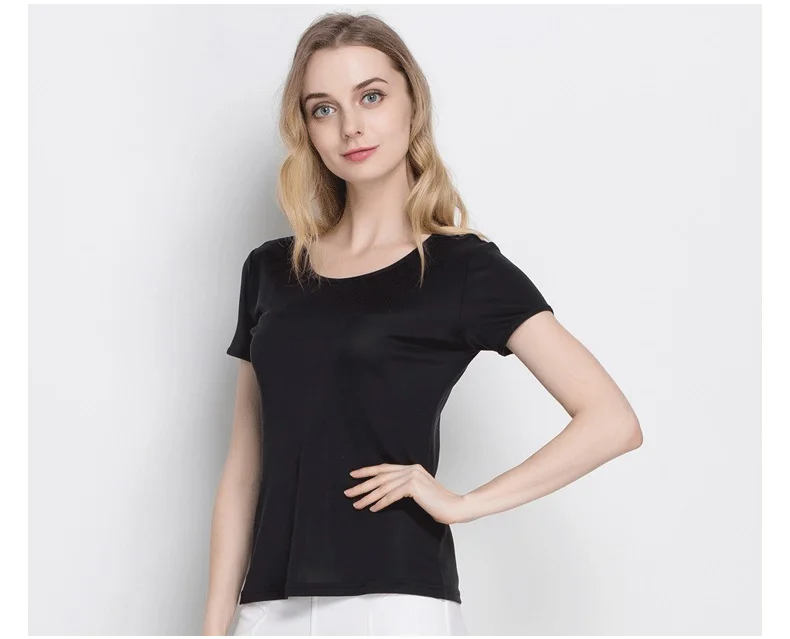 What is 100% Pure Silk?
Silk is the highest quality silk you can purchase.It is Made from silkworms that are living in captivity under exacting conditions. It is also the most expensive type of silk.What makes it so expensive and why is it superior to other types of silk? Let me star by telling how silk is made, a process the Chinese developed thousand of years ago and have perfected,making them the world's experts in producing the finest silk. It's scarce,because world annual output 90 thousand tons only 0.2% of the total output of textile fibers.It's comfortable and breathable,because porous protein fiber,Minimun friction cofficient of skin care.It's Moisture prevent dryness,because hydrophilic factor amino amine group porous diffusion.It's natural healthy,because pure natural anti ultraviolet, 18 kinds of amino acids, antibiosis.
What is knitting silk?
With the silk composition of the yarn with knitting process to fabricate the fabric, should be like we usually wear t-shirts as a relatively soft fabric, silk knitted fabric feel good,flexible. summer wear such clothes will be very cool, very comfortable, Winter is not cool…….
How to identify the 100% pure silk and imitated silk?
100% Pure Silk: When pure silk is burning, it sends out the same smell as the burning men's hair,no fame and will soon be automatically extinguished,the ashes after burning are black,fragile tiny particles.
The imitated silk: when burning will flame appears, it send out the smell as burning plastic,burning is very fast,less ashes after burned,ashes are dark gray.
Silk Maintenance
(1)Washing separately, use neutral detergent,soaked in normall temperature water for 15-20 minutes,gently rub by hands wash,not use washing machines.
(2)Air Dry on a cool place,not wring, not isolated under the sun,ultraviolet makes pure silk fade.
(3)Iron when not completely dry (about 80%),medium iron ,on the opposite of clothing,do not spray water.
(4)Storage after completely dry,wrap it with cloth,put it in the cupboard,without camphor or health ball together.
(5)Keep color add a small amount of vinegar in the water when hand washing, silk color will be more bright.
(6)Restore color if when silk became light color, put it into clean wash rice water,change once a day,after three days,the color will better,if there are perspiration,use melon water to clean.
Special Note
We will carry out he color fastness testing in the silk fabric stage, it ts in line with the national standard 3, there will be a little floating color, that will sightly faded,which is in line with the requirements of intelnattional standard.Thank for your understand and support.